The Ultimate and Complete Guide to Student's STEM Scholarships in 2022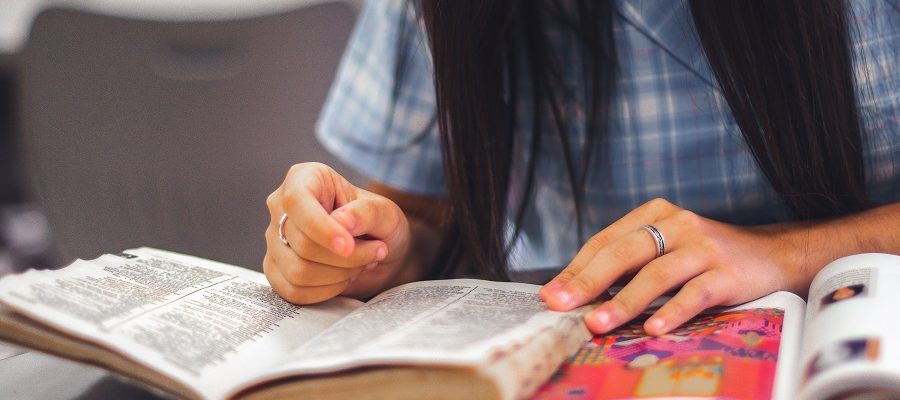 Science, technology, engineering, and mathematics (STEM) are among the most popular majors among college students and undergraduates. There are numerous postgraduate career options available, whether you want to be a technical writer, a chemist, a web developer, or an environmental engineer. And because of this, there are many STEM scholarships available to help students succeed!
If you are a high school STEM student, or a college or university student searching for financial aid, you should apply for scholarships. Keep reading to get the list of the best scholarships within June deadlines for high school, college, and sometimes even graduate students. Remember, the money you win from a June scholarship is the money you may use to pay for college.
Best STEM scholarships in 2022
$5,000 Chris Jackson Scholarship for Computer Science Education
Undergraduates pursuing computer science degrees are eligible.
A $5,000 scholarship.
The last date for submissions is October 1, 2022.
$2,500 Future Leaders in Technology Scholarship – College Award
Students who pursue a degree in computer science, electrical engineering, or data science from underrepresented colleges and universities are eligible.
A $2,500 scholarship.
The last date for submissions is June 19, 2022.
Papa John's Scholarship
African American STEM (Science, Technology, Engineering, Mathematics) students or students who study a number of other disciplines (excluding freshmen) are eligible.
Candidates must have a GPA of at least 2.5.
$5,000 scholarships.
The last date for submissions is June 8, 2022.
Best Easy Scholarships in 2022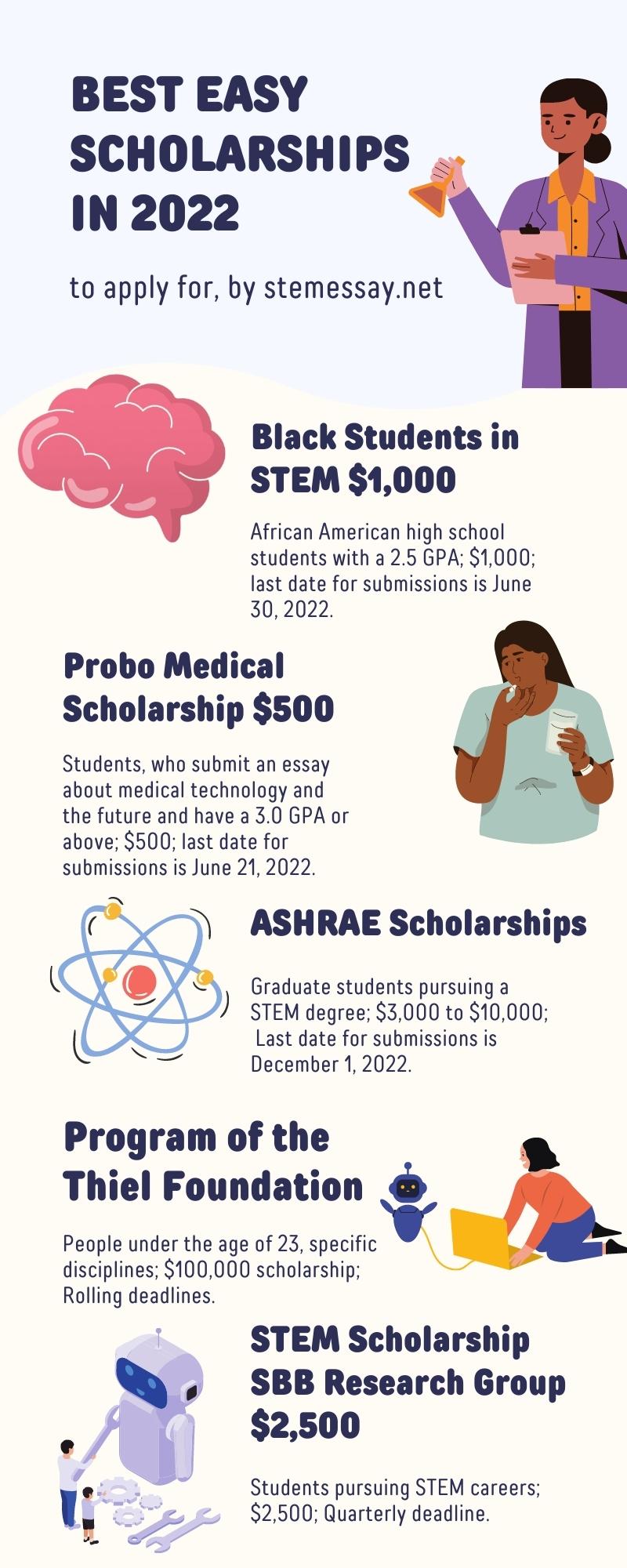 $1,000 Scholarship Fund for Black Students in STEM
African American high school students with a 2.5 GPA or above who aspire to pursue a STEM degree at HBCUs are eligible.
A $1,000 scholarship.
The last date for submissions is June 30, 2022.
Probo Medical Scholarship
Students in high school, college, and graduate school who submit an essay about medical technology and the future and have a 3.0 GPA or above are eligible.
A $500 scholarship.
The last date for submissions is June 21, 2022.
ASHRAE Scholarships
Undergraduate and graduate students pursuing a STEM degree are eligible.
$3,000 to $10,000 scholarships.
The last date for submissions is December 1, 2022.
Fellowship Program of the Thiel Foundation
Young people under the age of 23 who are working on biotechnology, career development, finance and economics, education, energy, telecommunications, mobility, robotics, and space projects are eligible.
A $100,000 scholarship.
Rolling deadlines
STEM Scholarship from the SBB Research Group
Students pursuing STEM careers who are not close family members of SBB employees are eligible.
A $2,500 scholarship.
Quarterly deadline.
STEM Scholarships for women 2022
Do you enjoy science and mathematics classes? Perhaps you want to be an accountant or major in data science. If that is the case, you should apply for scholarships for women in STEM. Continue reading to find out more!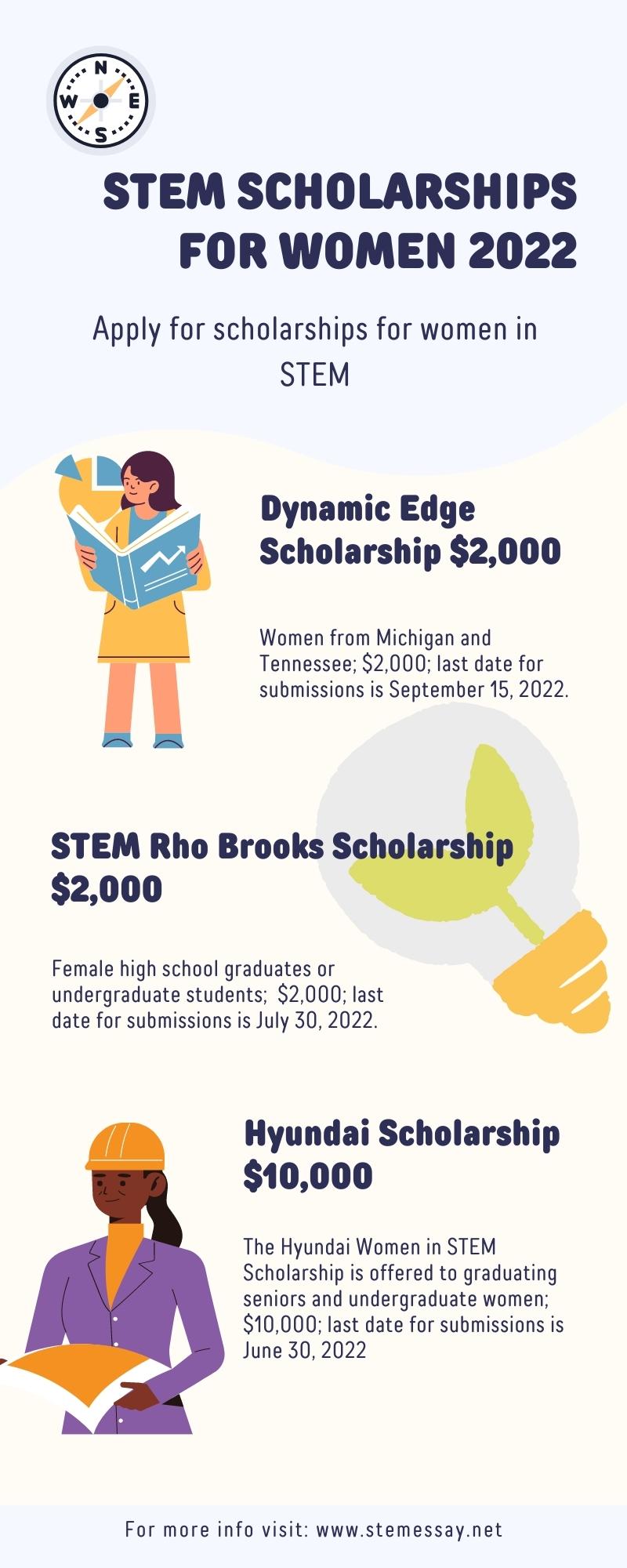 Scholarship for Women in STEM by Dynamic Edge
Women from Michigan and Tennessee who want to pursue STEM degrees or certifications are eligible.
$2,000 scholarships.
The last date for submissions is September 15, 2022.
Women in STEM Rho Brooks Scholarship
Female high school graduates or undergraduate students interested in STEM who will be entering college or university in the fall of 2022 are eligible.
A $2,000 scholarship.
The last date for submissions is July 30, 2022.
Hyundai Scholarship for Women in STEM
The Hyundai Women in STEM Scholarship is offered to graduating seniors and undergraduate women who want to pursue a career in a STEM-related area.
A $10,000 scholarship.
The last date for submissions is June 30, 2022.
Scholarships for Science, Technology, Engineering, and Mathematics Students
Though some STEM scholarships are for people interested in STEM, others require that a student major in STEM. This condition might be a big concern for students who are not sure what they want to study in college. You do not want to find yourself in a scenario where you might lose a scholarship because you want to switch majors.
If you are writing an essay for a scholarship, make sure it is tailored to the prompt as well as the institution that will be providing the money. Some institutions may provide specific scholarships to potential STEM majors. Visit the college's website on your list to see if any of these scholarships are available.
STEM Scholarships FAQ
Who is eligible for a STEM scholarship?
There are many various sorts of STEM scholarships available, and you may be eligible for a number of them. Some STEM scholarships are offered to current college students, while others are offered to high school seniors entering college, and yet others are designed for graduate students. Others may need you to major in a STEM field. Even if you are not pursuing a STEM degree, some STEM scholarships are still available.
The Lounge Lizard award, for example, is a STEM scholarship for students interested in web design. While majoring in a relevant field will increase your chances of receiving the scholarship, it is not required. You could be self-taught in web design or preparing to enroll in a bootcamp after graduation. So, even if you are not a STEM major, you can still apply for STEM scholarships. You will only have to put in a little extra effort to show that you are interested in STEM subjects.
When is the best time to apply for a STEM scholarship?
There are many great STEM scholarships to apply for, each with its deadline. You should always keep an eye out for STEM scholarships so you may take advantage of as many as possible. You will have access to the most diversity and a better chance of earning more money if you keep applying during the year.
We realize that keeping up with the ongoing quest for scholarships might be difficult. It is difficult to keep track of what you have already applied for, as well as what possibilities are coming up and which have passed you by.
Fortunately, some programs can help you keep track of everything and show you all of the best options available. You can find many scholarship search engines online. These tools will match verified scholarship options tailored to your interests. It will update automatically with opportunities available and will allow you to mark completed applications as well as highlight those you intend to submit.
What colleges provide scholarships for STEM students?
STEM students are usually eligible for academic scholarships at most universities. Browse the scholarship sites of institutions you are considering if you are interested in STEM. Some scholarship applications are automatically considered for STEM scholarships, while others require separate applications.
It is also important to contact the admissions offices of the colleges you are interested in. They might be able to point you in the direction of STEM scholarships that you did not notice on the webpage. They may also be able to direct you to local groups or other scholarship opportunities that many of their applicants won.
Where can I look for STEM scholarships?
We may be biased, but this list is the perfect place to start when searching for STEM scholarships! All of our scholarships have been thoroughly reviewed and are great ways to get money for college. It is also a good idea to research local groups and visit the websites of institutions you are considering. You can also use a scholarship search engine to find scholarships that are tailored to your academic interests.
Scholarships to Be Awarded Soon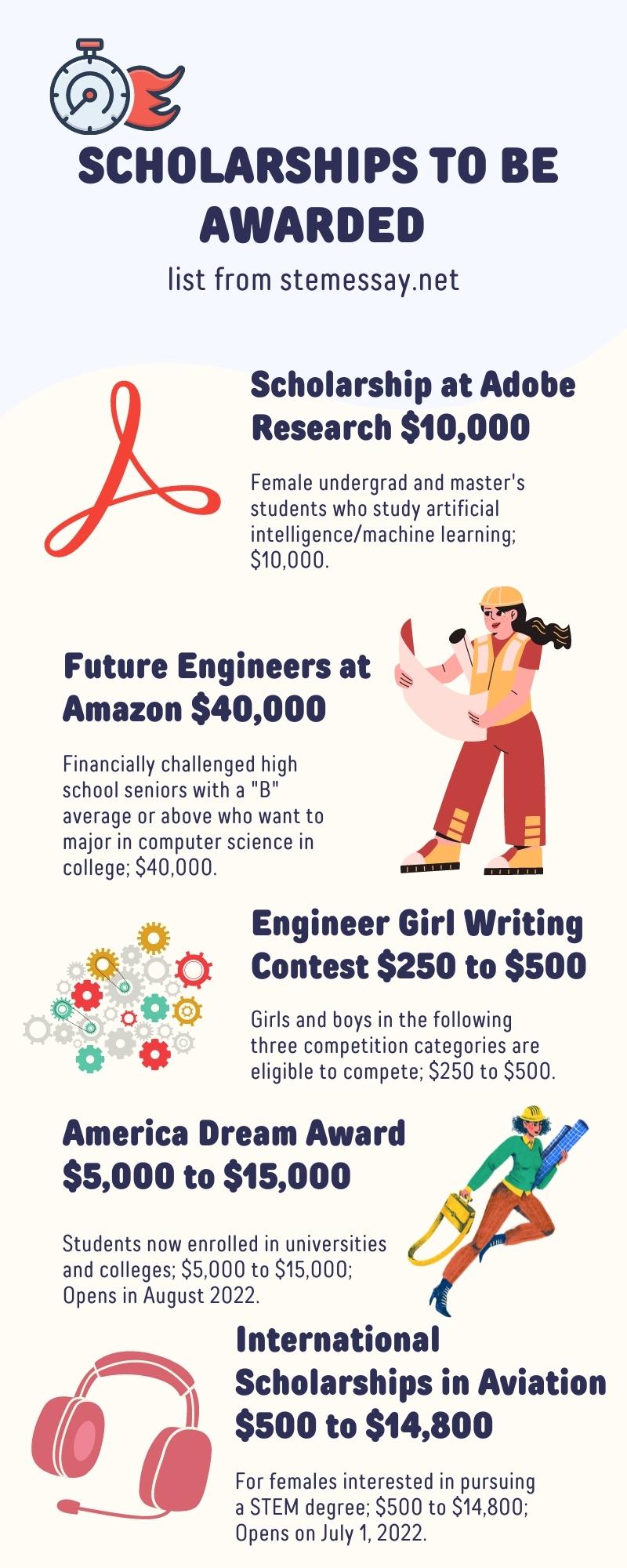 Women in Technology Scholarship at Adobe Research
Female undergrad and master's students who study artificial intelligence/machine learning, data science, computer science, or web development in North American universities, including Canada and Mexico, are eligible.
A $10,000 scholarship.
Scholarship for Future Engineers at Amazon
Financially challenged high school seniors with a "B" average or above who want to major in computer science in college.
A $40,000 scholarship.
Engineer Girl Writing Contest
Girls and boys in the following three competition categories are eligible to compete: Students in elementary school (grades 3-5), middle school (grades 6-8), or high school (grades 9-12) (grades 9-12)
$250 to $500 scholarship.
Scholarship America Dream Award
Students now enrolled in universities and colleges are eligible.
$5,000 to $15,000 scholarships.
Opens in August 2022.
International Scholarships for Women in Aviation
For females interested in pursuing a STEM degree. To apply, applicants must be members of Women in Aviation International.
$500 to $14,800 scholarship.
Opens on July 1, 2022.